⇒⇒⇒Go to Squish Delish Reviews Cat Food, Cat Treats, and Cat Toppers for cat food reviews.  
The following product reviews are listed alphabetically and fall into three categories:  Products we purchased ourselves (P); Products that were sent to us for
free, on a one-time basis, in return for our honest review (F); and Products from companies who we have affiliate agreements with (A).
Squish Delish only agrees to affiliations with companies that provide excellent customer service and high quality  products . When both the human and cat approve of the product or business, you will see the  "Squish Delish Approved" seal of approval next to the product name:

Cat Lady Box (A)
The Cat Lady Box is a monthly box that contains unique and exclusive items for you and your cat, including shirts, jewelry, home decor, art, accessories, and toys.
The Human:  I have been incredibly impressed with the quality and variety of items each box contains.  Plus, the people at Cat Lady Box are a pleasure to work with and I love that they give back to the cat community. One of my favorite items is the purple cat hoodie WITH POCKETS, which I am currently living in day and night!  I also love the vintage cat tumblers and the black purse with a silver cat shaped handle.
The Cats: The silly human thinks that some things in the box are for her!  We will be nice and share, but only because the Cat Lady Box always contains awesome things for us, like wands and catnip stuffed toys.
Chewy.com –  Website (A)
The Human:  When Chewy.com reached out to me to be an affiliate, I had my reservations.  My luck had not been good with some other big-name Pet Product websites.  But the opportunity to try two new free cat products every month in return for my honest opinion posted to Instagram was too good to pass up.  Luckily, I have been pleasantly surprised!  They have excellent customer service people who are knowledgeable about their products.  I once called when I was testing out litter and gave them a laundry list of requirements and the price I was hoping to stay under and they were able to give me several recommendations.  They have fast shipping that is free after a certain amount, a wide range of high quality pet products, and returns are easy-peasy.
The Cats:  We love it when the Chewy.com box arrives! And not just for the box….
Comfort Zone with Feliway Diffuser Kit (P)
The Human:  I am a big fan of the Feliway Diffuser and recommend it to anyone who is moving, introducing a family member (dog, cat, human) to the home, or has a cat who is stressed and anxious.  I find that it works better in smaller spaces like a bathroom, laundry room, or small bedroom. It releases a pheromone similar to what a mother cat would emit when having kittens and is very calming.
The Cats:  We found our new feline companions much more tolerable after being exposed to the .pheromones in Feliway.
Go Cat Teaser Cat Catcher Wand Cat Toy (P)
Purchased from Amazon.com:  Go Cat Cat Catcher Teaser Wand with Mouse Cat Toy
The Human:  This toy does a good job of mimicking the motions of potential cat prey.  It is affordable, but needs to be replaced every few months.
The Cats:  We love this toy!  It wiggles, flies, bounces and hops – just like real prey.  It's usually the human who breaks the wand by getting it stuck on something, so maybe your human will have better luck.
Kittywalk Stroller (F)
 We won a Kitty Walk cat stroller in a contest from The Purrington Post.
The Human:  This was easy to put together and made of sturdy, high quality material.  I was surprised to see how large it was and excited that both cats could fit in for a ride. The carrier section detaches and can be used separately, which is a huge plus. I was concerned that it might be hard to push and steer, but was delighted to find it easier to push than my smaller stroller. It has a cup holder and back wheel breaks, which I appreciate for the hills in Echo Park.  I do wish it came in glitter gold. But something tells me that wouldn't sell outside of Los Angeles!
The Cats:  We were a bit nervous when the human took us for our first stroll, but also very curious! Thankfully, there is a covered section to retreat to if a car alarm goes off or a dog barks too loud. Fergie especially enjoyed going to brunch at Mohawk Bend and meeting lots of new people.
There are several Kittywalk Stroller Options available through Amazon.com:
Kittywalk Royal Classic
         Kittywalk Pink
Kittywalk Original Stripe
       Kittywalk Double Decker – Striped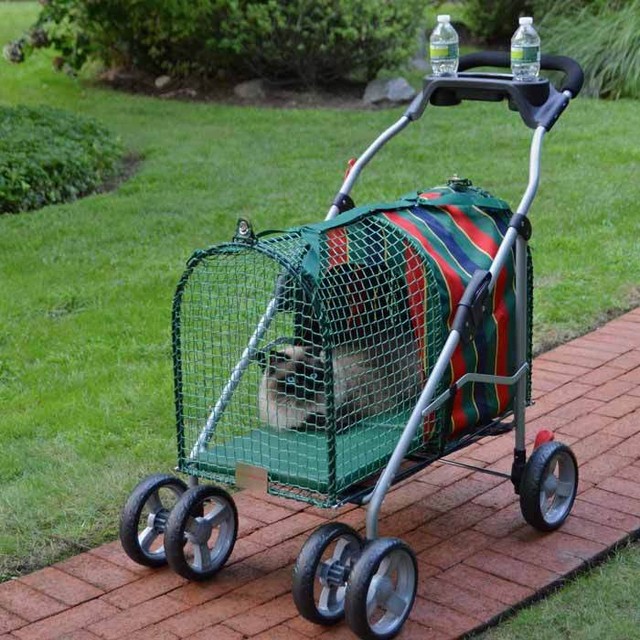 Litter Genie (F)
The Human: I loved the idea of the Litter Genie.  It allows you to keep your house smelling fresh after cleaning the cat box  Unfortunately, I never could figure out how to install the replacement bags!
The Cats:  Why does the human want our poop?
Find it at Amazon.com for $16.30 here: Litter Genie Plus Ultimate Cat Litter Odor Control Pail

Litter Robot (F)
The Human:  The litter robot looks like it could easily be a space ship.  I was concerned my kitties might not be able to figure out how to use it, but that wasn't a problem at at all.  It is very easy to put together, but you might be surprised at how large it is. You will also need to get a clumping litter that doesn't have much dust, as the self-cleaning cycle will definitely activate any dust in the litter you are using.  Overall, I think it is a really well made product that does what it promises.  However, I do want to add a couple of warnings.
If your cat is prone to loose stools, set the machine up so you can manually check before the Litter Robot self-cleans, or else you'll have quite the mess to clean up!  Second, I use my cat's litter box habits to help determine if they are in good health.  The Litter Robot is so darn efficient, you don't have time to assess the color, consistency and smell of what they leave behind.  Some people might find this to be a plus, but I ended up turning off the automatic self-cleaning (which starts as soon as the cat exits) and manually starting the self-cleaning process.
The Cats:  Fergie:  The Litter Robot is great entertainment!  If I sit in front of it long enough, I just know something exciting will happen!  It's nice and spacious for even the fluffiest kitty.  Duffy:  I like it because sometimes if my poop is really stinky I take off running before I have a chance to cover it up.  With the Litter Robot, I know that it will do all the work for me!
Amazon.com link: Litter-Robot III Open-Air – Automatic Self-Cleaning Litter Box
PetNet Smart Feeder (F)
The Human: The PetNet Smart Feeder allows you to manage your pet's feeding schedule from your phone.  You can set the exact proportions and feeding times or auto feed at will.  This pet feeder works with dry cat food, which is not the foundation of my cat's diet (See my blog on Cat Diet and Nutrition).  However, I love the ability to use this feeder when I'm traveling. The PetNet Smart Feeder is easy to use and their customer service is superb!
The Cats:  What is this magical food dispensing machine?  We likey!
Pioneer Pet Raindrop Stainless Steel Pet Drinking Fountain (P)
The Human:  I purchased this fountain more than four years ago and it is still going strong!  I love the sleek design and I think it does help encourage kitties to drink more water.  I clean the bowl and motor every two weeks, which is kind of a pain.  But the replacement filters are cheap ($6.99 for three on Amazon) and only need to be changed once a month.

The Cats:  The fresher the water the better, so it's two paws up for us!  We also like like the fact that the fountain is pretty mellow and not at all scary.
I purchased my fountain through Amazon.com:
Pioneer Pet Fountain
Sentry Good Behavior Pheromone Cat Calming Collar (P)
The Human: I have used the calming collar on my cats several times, twice while introducing a new cat into the home and once when some strays in the neighborhood were dialing up Duffy's territorial instincts and he was continuously yodeling at the back door.  It says it can be used to modify inappropriate marking, excessive meowing, and scratching.  The only thing I didn't like is that I felt the break-away collar was too strong and that there might be a slight chance for a choking hazard, therefore I didn't actually use the buckle.  Also, don't forget to wipe off the white stuff before putting it on your cat or you'll have a mess on your hands (and cat).
The Cats:  This collar puts us in a zen like state. Ommmmmmm.
Urinary Gold Natural Support for Feline Urinary Tract Health (Pet Wellbeing)
The Human:  This is something I purchased after my first cat Squish had several UTIs and was diagnosed with urinary crystals.  She refused to eat wet food, so I tried to increase her water intake and then added this holistic remedy.  It contains ingredients that balance the ph of the bladder and are supposed to reduce bladder inflammation. Squish was so finicky, I would have to add it to her dry food, let it dry completely, and then give it to her.  But she didn't have a single UTI after! One bottle lasts for three months.
Squish:  I was happy that I no longer felt the need to try new spots to urinate because of the discomfort.  But my human knows I would never eat any food that has the slightest bit of moisture.
UroMAXX Urinary Tract, Kidney & Bladder Formula
The Human:  I have never tried this formula, but the other urinary tract additive is so expensive, I thought I should at least tell you about it since some of the ingredients are the same and it has really good reviews. One bottle lasts for 6 months.
The Cats:  Whatever.
Yeowww! Catnip Yellow Banana Cat Toy (P)
The Human: I think I remember paying close to $8 the first time I bought this toy.  I thought that was a tad expensive, but given the response of my cats it was money well spent.  Other catnip toys are hit or miss, but the banana always comes through. Now I get it for around $6 at Chewy.com.
The Cats:  It's a unanimous YEOWWW from us!  Duffy:  I love my 'nanner, first I get really hyper and feisty, then I take a little trip to outer space.  Fergie:  This makes me want kick, run, and pounce.  I go into to sass overdrive with the banana cat toy!